More Efficient, Cleaner and Safer Proppant Logistics
Sand Flow Logistics' modular equipment is specifically designed to satisfy in an efficient way the needs of the companies involved in the process of hydraulic fracturing (both operators and service companies), independently of their business volume, ranging from single-site operators to major multi-basin players.
---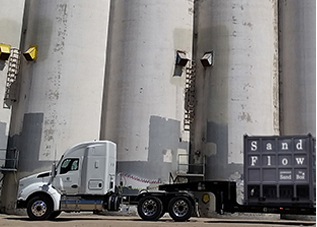 Operational
Costs:
The Sand Flow technology generates a significant cost saving by providing a more efficient, cleaner and safer solution to the companies involved in the process of hydraulic fracturing, by eliminating bottlenecks in the sand supply process, and by avoiding unnecessary capital investments, among other advantages.
Reduce capital investments by eliminating the need for:
SandMasters/movers
Silos
Pneumatic haulers
Conveying equipment
Improve efficiencies and
reduce costs by:
Getting rid of supply scheduling issues
Reducing the number of trucks/trailers (download times of 5 minutes)
Avoiding unnecessary loading/unloading costs
Setting up mobile transload facilities almost anywhere to reduce the distance from stock point to well site
Eradicating issues related to rail shrinkage and contamination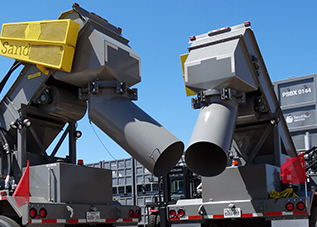 Guarantees
Proppant Quality:
The Sand Flow process eliminates several steps in the transportation of sand for hydraulic fracture, which allows the supply of higher quality proppants at the well site.
Maintain proppant quality by:
Eliminating proppant shrinkage
Preventing the sand from getting wet
Reducing sand degradation by eliminating trans-loading steps
Eliminating product contamination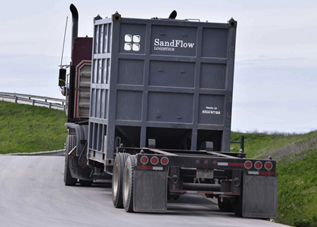 Health, Safety &
Environmental
The US Occupational Safety and Health Administration The OSHA (Occupational Safety and Health Administration) has issued a hazard alert related to the health risk that represents the inhalation of silica dust generated during the hydraulic fracturing process.
The equipment that integrates the system by Sand Flow has been specially designed to mitigate this problem that other logistic options cannot solve.
In summary, the
Sand Flow

solution will:
Rationalize the amount of trips and trucks affected to the service
Reduce personnel on fracturing site
Eliminate the silica dust particles on air, reducing risks to health and avoiding waiting times between different hydraulic fracturing stages
The Sand Flow system eliminates the need for multiple sand transfer points during the fracturing process, causing the silica particles to stay "inside the box," rather than being released into the air at the well site.
Located in the middle of Vaca Muerta
© ALL RIGHTS RESERVED. SandFlowlogistics 2019.